Events
Tired of the crush and grind of the Big City? Want to get out of the traffic and into the country, but afraid you'll miss out on the cultural life of the Big City? Tontitown has a low population density, but is rich in events. We've got the Tontitown Grape Festival, one of the country's oldest community festivals, and our own Bocce Tournament, plus we've got the Tontitown Historical Museum, an educational experience for young and old alike. And there's more! With the Walton Arts Center, the Jones Family Center, Crystal Bridges Museum, and more in the Northwest Arkansas area, there's always something to do in and around Tontitown.

City of Tontitown Spring Clean up
May 9 @ 8:00 am

-

12:00 pm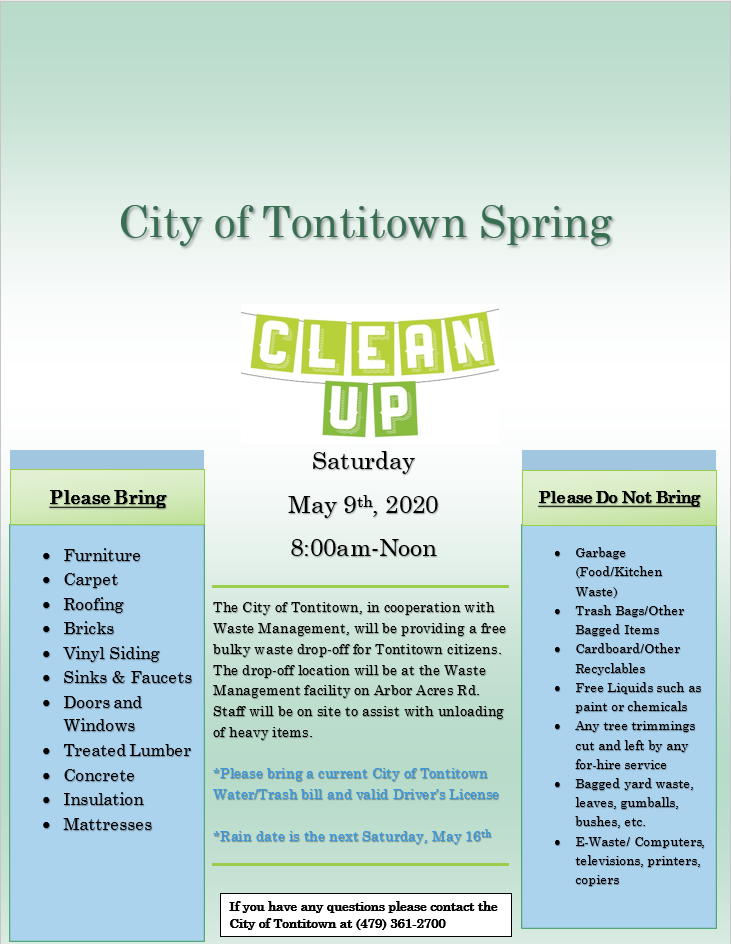 The City of Tontitown, in cooperation with Waste Management, will be providing a free bulky waste drop-off for Tontitown citizens. The drop-off location will be at the Waste Management facility on Arbor Acres Rd. Staff will be on site to assist with unloading of heavy items. Please bring a current City of Tontitown water/trash bill and a valid Driver's License. 
Accepted items include: Furniture, carpet, roofing, bricks, vinyl siding, sinks & faucets, doors & windows, treated lumber, concrete, insulation and mattresses
Please do not bring: Garbage (food/kitchen waste), trash bags/other bagged items, cardboard/other recyclables, free liquids such as paint of chemicals, any tree trimmings cut and left by any for-hire service, bagged yard waste, leaves, gumballs, bushes, E-waste/ computers, televisions, printers, copiers.