The Tontitown Market
Bigger and Better Every Year!
The Tontitown Market
The Tontitown Market will begin its seventh year of operation on May 6, 2023. The market is held on Saturdays from 8:00 am – 1:00 pm in the heart of Tontitown, at the beautiful Harry Sbanotto Park located on East Henri De Tonti, behind City Hall!
The Tontitown Market was born in 2017 with the vision of becoming a local attraction for all. Over the past several years the market has grown from only a few vendors to what it is today, and it continues to grow.
The Tontitown Market is looking to expand and become bigger and better than it ever has been in the 2023 season. Our vision is to fill the park with vendors offering you everything from locally grown fresh fruits and vegetables, to homemade baked goods, delicious jams, jellies and fruit butters, fresh local honey, gorgeous paintings, hand sewn purses, embroidered pieces, homemade beauty products, baked pies, beautiful handmade jewelry, handmade hand soaps, hand-cut wooden pieces, and an even wider variety of items. We even have a Kid's Corner where our young, local entrepreneurs have a chance to sell their creations, expand their imaginations, and be encouraged to pursue their dreams. Our goal is to be your one stop shop on Saturday mornings!
The Tontitown Market is currently seeking new vendors for our 2023 season. Vendors must offer products produced within Washington, Madison, or Benton Counties only. There is a $5 application fee and if your application is approved, there is a one time $25 vendor fee. If you are not wanting a designated spot for the whole season, you are able to get day passes for one time use at $5 each. Application can be found below, and will be accepted throughout the market season. Our vendors keep 100% of their proceeds. If you are interested in joining us at our ever-growing market, please fill out an application and return it ASAP. We look forward to seeing you May 6th as we kick off the 2023 Tontitown Market season, bigger and better than ever!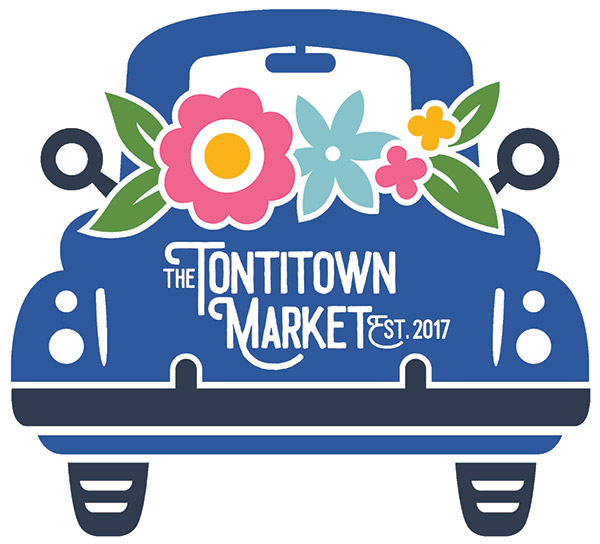 Click the buttons below to download applications, guidelines, etc.
ONLINE VENDOR APPLICATION
Angela Russell – Mayor
mayor@tontitownar.gov
Leslee Shadrick -  Administrative Assistant to the Mayor
adminasst@tontitownar.gov
Luann Jenison - City Administration  /  HR
cityadmin@tontitownar.gov
Tontitown City Administration Building & City Hall
Open from 8:00 am till 4:30 pm. Offices Located in this building are Administration, Accounting, Building, Planning, and Public Works Department.
Located at:
235 E Henri de Tonti Blvd
Tontitown AR  72762
(Located in Tontitown next to the Park)
Mailing Address:
PO Box 305, Tontitown AR  72770
Tontitown Water Utility
Mailing Address: PO Box 127, Tontitown AR 72770
Physical Address: 201 E Henri de Tonti Blvd, Tontitown AR 72762
Tontitown City Administration Building
235 E Henri de Tonti Blvd
Tontitown AR  72762
Mailing Address:
PO Box 305, Tontitown AR  72770
Hours
Mon-Fri: 8:00 am - 4:30 pm
Sat-Sun: Closed