Fence Permit Requirements & Application
Welcome to City of Tontitown's Fence Permit Application. FENCE PERMITS ARE REQUIRED FOR ALL FENCES. There is no additional charge for the fence permit if in conjunction with a new residential permit. 
*NOTE: Must Submit Site Plan with Application*
FENCE REGULATIONS: *additional regulations apply to some Commercial/Industrial Uses-check full code*:
Read the City of Tontitown Ordinances regarding Fence Permits here: 153.215  FENCES (at American Legal).
Except as otherwise specifically provided in other codes and regulations of the city, the following regulations shall apply to the construction of all fences.
Maximum height. Fences shall not exceed eight feet in height, unless approved by the Planning Board. Fencing in I districts, and around tennis courts and other recreational amenities, shall be exempt from this height limit.
Corner visibility. Fences shall comply with the corner visibility standards of § 153.213 (at American Legal).
Construction/materials. Fences in all residential zoning districts shall be constructed so that the horizontal and vertical support posts are inside the fenced area or hidden from view of those outside the fenced area. This requirement shall not apply to fences that abut nonresidential zoning districts or in situations where the owner of the lot adjacent to the fence agrees to a plan for placing support posts on the "outside" of the fence. All exposed steel, except galvanized metal, shall have a color finish coat applied to them and be preserved against rust and corrosion.
Design and maintenance. All fences shall be maintained in their original upright condition. Fences designed to be painted or have other surface finishes shall be maintained in their original condition as designed. Missing boards, pickets, or posts shall be replaced in a timely manner with material of the same type and quality.
Prohibited. Barbed wire and electrified fences shall be prohibited on all lots of less than one acres in area.
Front yard. Unless approved by the Planning board, a fence over 36 inches in height shall not be located in the front yard or be positioned any closer to the front property line than the front surface of the building for a typical residential lot. Decorative fencing not exceeding 36 inches is allowed in front yards.
Pools and spas. Refer to International Building Code, Swimming Pool Enclosures and Safety Devices.
Also see illustrations:
Fences must be located at least 5′ from street or public right-­of-way.
No fence may be located within a sight triangle
Fences may not be located in a platted drainage easement.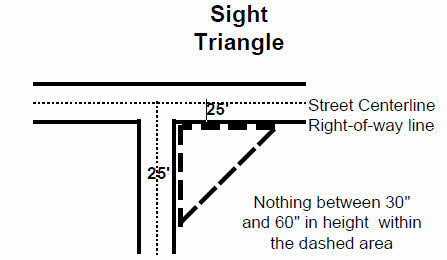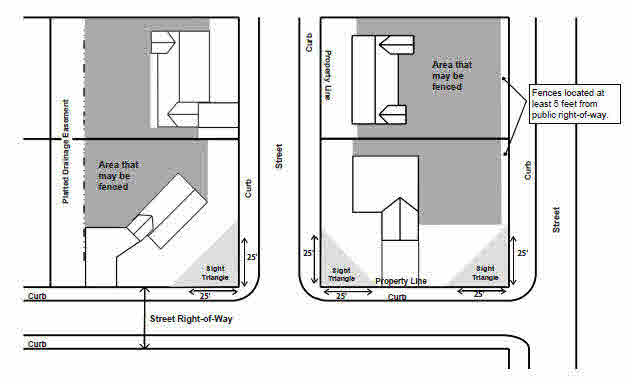 ONLINE FENCE PERMIT APPLICATION
FENCE PERMIT APPLICATION – PDF
Leslee Bohannan -  Administrative Assistant
adminasst@tontitownar.gov
Tontitown City Administration Building & City Hall
Open from 8:00 am till 4:30 pm. Offices Located in this building are Administration, Accounting, Building, Planning, and Public Works Department.
Located at:
235 E Henri de Tonti Blvd
Tontitown AR  72762
(Located in Tontitown next to the Park)
Mailing Address:
PO Box 305, Tontitown AR  72770
Tontitown Water Utility
Mailing Address: PO Box 127, Tontitown AR 72770
Physical Address: 201 E Henri de Tonti Blvd, Tontitown AR 72762
Tontitown City Administration Building
235 E Henri de Tonti Blvd
Tontitown AR  72762
Mailing Address:
PO Box 305, Tontitown AR  72770
Hours
Mon-Fri: 8:00 am - 4:30 pm
Sat-Sun: Closed